Image compressor for designers and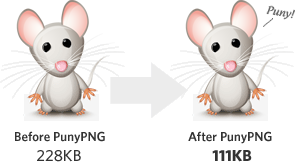 PNG compression that just works

PunyPNG is a free online image compressor tool that dramatically reduces the file size of your images without any loss of quality.

Sign Up for Advanced Features

More compression controls
Preserve EXIF information
IE6 support, API access and more!

PunyPNG vs The Competition




Who uses PunyPNG?












"The wizardry that PunyPNG provides makes a night and day difference in the total payload for images."
~ Frederick Townes, CTO, Mashable


"I can't remember the last time that I didn't run my images through PunyPNG. It's genius."

~ Otty Soemitro, Sr. UI Designer, Ask.com



Supports: JPG, GIF and PNG. Max 150KB each, up to 10 files


FREE Trial for Higher Compression and Lossy Optimizations
Optimize your images for mobile and squeeze every last bytes.